Mark Ruberg '78 Creating Community with Aquaponics Farm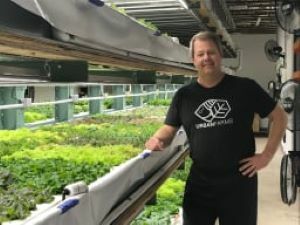 Mark Ruberg '78 Creating Community with Aquaponics Farm
Six years ago, Mark Ruberg saw an article in an airline magazine for aquaponics and thought that it was an interesting industry. Little did he realize that aquaponics would become a major investment for him in both time and treasure to help create O2 Urban Farms.
O2 Urban Farms has been a business in the making for the last 13 months. In February 2018, they filed for non-profit status and started the business with the idea of supplying fresh food to food deserts while creating job opportunities in the local community. Just a few short months later, they were expanding. During the summer of 2018, they were informed of possible property and indoor growing space on the campus of Vineyard Westside. They started construction at an out building at Vineyard Westside; completing the project in a few short months. By December, they were planting their first crops and had their first harvest February 1, 2019.
"Being able to grow fresh produce locally during the off seasons really helps the local restaurants," says Ruberg. "The restaurants are able to serve fresh produce while helping local, small farms grow the economy. We harvest our lettuce twice a week giving the local restaurants menu options they might not be able to supply during off season times."
O2 Urban Farms uses aquaponics as the process to grow their crops. Aquaponics refers to any system that combines conventional aquaculture (raising aquatic animals such as snails, fish, crayfish or prawns in tanks) with hydroponics (cultivating plants in water) in a symbiotic environment. At O2 Urban Farms, they use a hybrid bass fish as the aquaculture to help grow 11 different kinds of lettuce.
"The best part of our process is it is self-sufficient. The water that is used as the food source for the crop is cycled through a series of pipes starting with the fish tanks. We use the used fish water to fertilize the plants. The plants pull all the nutrients out of the water, cleaning it to make fresh water for the fish. The cycle will flow through the whole system 3 - 4 times a day creating a constant food source for the plants while giving the fish a fresh water source."
In addition to their support of local restaurants, O2 Urban Farms also helps support other non-profits creating a cycle of helping the greater Cincinnati community. Ken Anderson Alliance assists them with needed part-time employees. Ken Anderson Alliance is a non-profit that works to create work opportunities for adults with developmental disabilities. Multiple adults with the Ken Anderson Alliance work at O2 Urban Farms helping with planting seeds, harvesting the crops and bagging the salads.
The third non-profit that is part of this cycle is Ohio Valley Food Connections (OVFC) which creates connections between local farmers and restaurants that are in need of supplies, allowing each to concentrate on their business needs. OVFC picks up the food from the farmers allowing farmers to concentrate on food production. OVFC accepts requests from local businesses on food needs for upcoming menu items. They deliver the needed fresh food to the businesses allowing them to concentrate on the food preparation.
If you would like more information about O2 Urban Farms, they are hosting an Open House on Saturday, March 30 from 9:00 am to 2:00 pm. They will be hosting presentations on aquaponics as well as tours of their facilities. They are located at 3420 Glenmore Ave. in Cheviot behind Vineyard Westside.