La Salle Honors our Veterans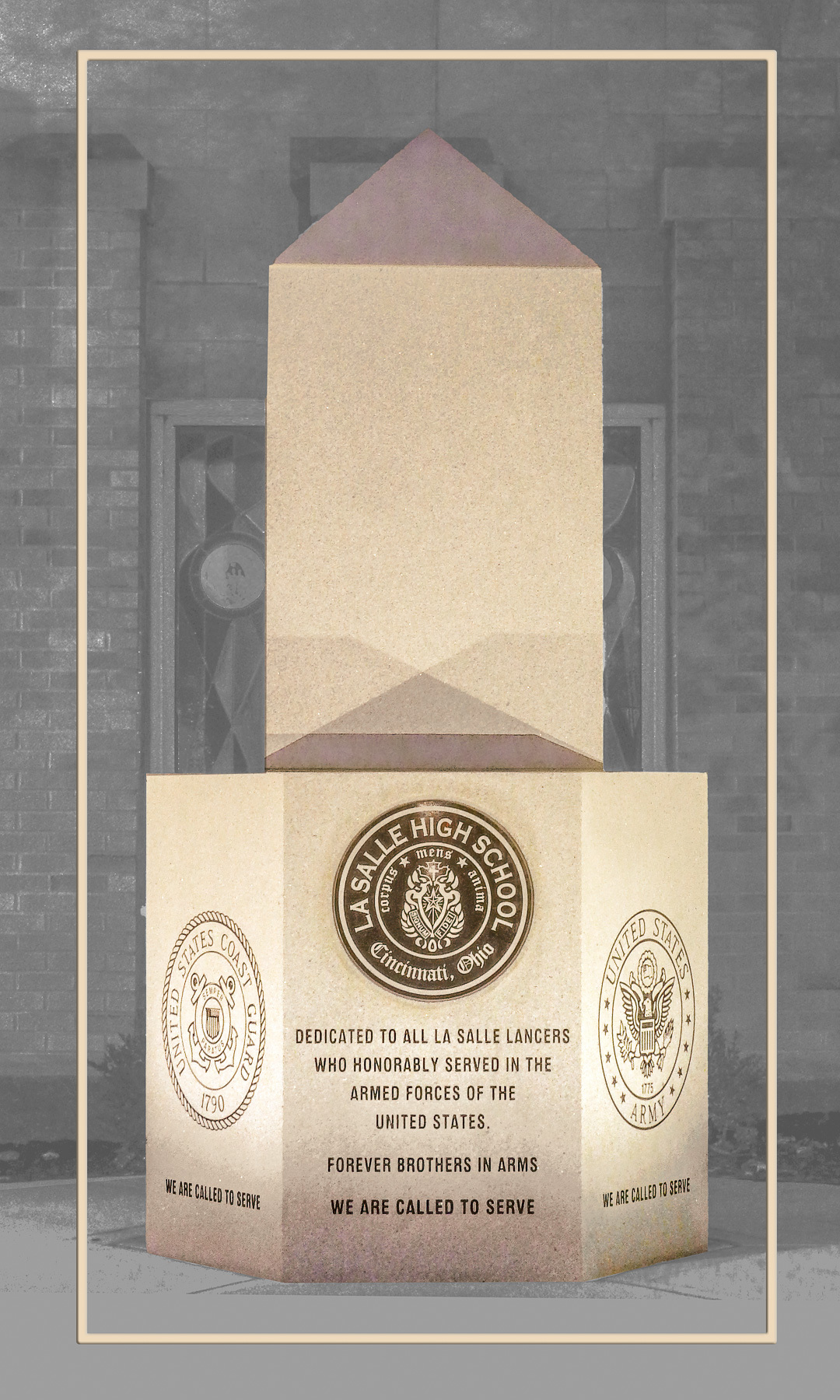 At La Salle, we are very proud of all who answer the Call to Serve through military service. We dedicate these pages to those that have fought for our freedom and recognize those that have given the ultimate sacrifice.
On September 11, 2018 La Salle dedicated the Veteran Monument in the courtyard entrance of the school. This event was attended by alumni, veterans, La Salle community members, and La Salle students, faculty, and staff. This monument is in recognition of the sacrifice all of those that have served in our military.
Annually we honor all veterans through a Veteran Appreciation Day. The day includes refreshments, recognition by our students.
Veterans Committee Vision
In 2014, an alumni Veterans Committee was approved by La Salle's principal with the following vision ...
To recognize La Salle High School alumni Veterans by:
1. Build a lasting alumni veterans memorial.
2. Establish an annual student body education experience.
3. Establish an annual veteran's scholarship.
4. Establish a student and alumni veterans resource.
This effort was led by Tim Waechter '64, Steve Koenig '82, and the Director of Alumni Relations. A Veteran's committee was formed shortly thereafter.
The first VETERANS APPRECIATION DAY was held in 2015. This annual event draws between 100 and 250 Veterans to a school assembly which serves as a thought-provoking educational seminar linking the student body to the military in a unique and direct way. Guest speakers have included former military members, wounded warriors, Veteran Congressman, serving officers, the Bishop of the Archdiocese of the Military, a Vietnam Prisoner of War, and a Medal of Honor Recipient.
Between 2015 and 2017, the ALUMNI WEBSITE was improved to include the identification of all La Salle Alumni Veterans, with a special recognition of La Salle Veterans who have made the ultimate sacrifice. The website also serves as a repository of the photos and videos from each year's Veterans Appreciation Day.
In 2018, the Veterans Committee achieved its goal for a permanent memorial to La Salle Veterans with the dedication of the Veteran's Monument at the courtyard entrance of the school.
In 2020, the Veteran's Committee reached the threshold to establish a Veteran's Scholarship. This scholarship is awarded to La Salle students who have a direct tie to the military and financial need. As the scholarship fund grows, the size of the scholarship has increased.
The Veterans Committee is comprised of Veterans from the Army, Navy, Air Force, and Marines with service from Vietnam through the wars in Iraq and Afghanistan. Today, the Veterans Committee consist of:
Bill Effler, Bill Rocklin, Bob Abrams, Bob Alexander, Chris Mason, Kevin England, Matt McGowan, Matthew Birck, Pat Koenig, Ron Prybal, Steve Koenig, Tim Burda, Tom Effler
Tim Waechter - Chairman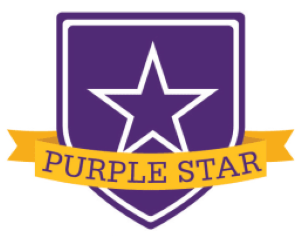 La Salle Named Purple Star School
According to Ohio Department of Education, "The Purple Star Award for a military-friendly school recognizes schools that show a major commitment to students and families connected to our nation's military." La Salle annually hosts a Military Appreciation Night and a Veteran Appreciation Day. In 2018, La Salle fundraised and installed a new Veteran Monument on campus. In addition, La Salle supports military families with financial aid, as well as spiritual support through our pastoral care program.
On April 11th, 2022, the Ohio Department of Education renewed La Salle High School's designation as a Purple Star School!