Ben Kelhoffer Memorial Euchre Tournament
This event has expired.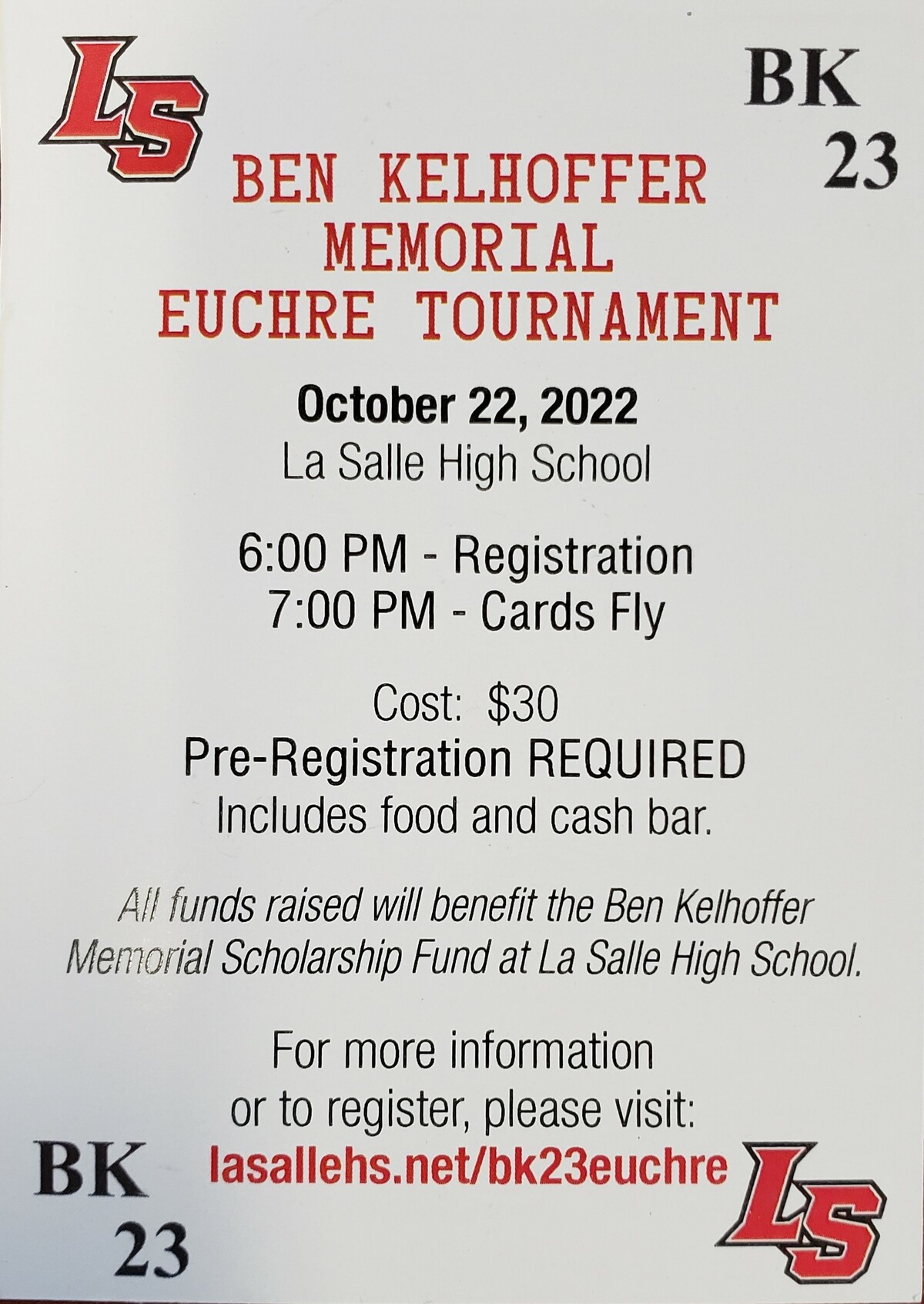 Ben Kelhoffer, a 1998 graduate of La Salle High School, passed away of leukemia on October 17, 1998. Ben fought a courageous fight and although physically he is no longer with us, his zest for life, unique sense of humor and great smile remain with us forever.
As a tribute to Ben's life, the Ben Kelhoffer Memorial Foundation was established in 2002. In previous years, the Foundation organized golf outings which benefitted Ben's Scholarship Fund at La Salle High School, Make a Wish Foundation, the Leukemia and Lymphoma Society and Children's Hospital HEM-OC Unit. The success of the memorial golf outing exemplified the spirit of Ben's life that continues to live in the hearts and minds of many.
As a part of the ongoing efforts to keep Ben's Memory alive, the Kelhoffer Family and La Salle High School are sponsoring the Ben Kelhoffer Memorial Euchre Tournament to be held on:
Saturday, October 22, 2022
6:00 p.m. - Registration
7:00 p.m. - Cards Fly
This tournament is an individual tournament, where the player will play eight separate rounds of euchre. Each round will consist of eight dealt hands. Players will accumulate points during the eight rounds for a combined point total to determine the winners.
Cost is $30.00/person
Pre-Registration is required. Includes food and cash bar.
Payouts will be determined based on the amount of registered participants.
There are a variety of Sponsorships available for the event, they include the following:
$100 - Table Sponsor - Table sign will be placed at a player table with your company logo
$200 - Aces Sponsor - Placement of company logo on all printed materials and recognition during the tournament
$300 - Jacks Sponsor - Same as Aces Sponsor plus 2 entries into the tournament
$500 - Lancer Sponsor - Same as Aces Sponsor pulus 4 entries into the tournament