Alumni Spotlight - Chris Winiarski '96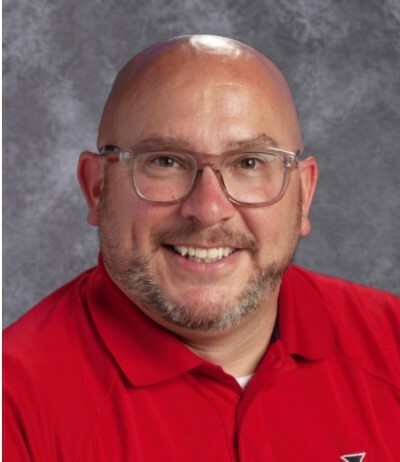 Chris Winiarski, Class of '96, Campus Ministry, Religion Teacher
Hope, Strength and Healing Award Recipient awarded by Companions on a Journey Grief Support Group -November 2020.
Sr. Dorothy Stang Award 1 of 2 recipients as awarded by the Archdiocese of Cincinnati -May 2016.
Lasallian Alumni Faith Pillar Award recipient from La Salle High School Alumni Association -September 2015.
De La Salle Signum Fidei "Faith Called to Serve" Award as recognized by students and fellow colleagues -January 2014
Principal's Award from La Salle High School -May 2013.
Distinguished Lasallian Educator -RELAN District of North America, Washington, D.C. –November 2011.
Recipient of the Brother James Daniel Memorial Award at La Salle High School that recognizes the faculty member who best exemplifies the "truly concerned Christian Educator" –June 2009.
Best Moodle Class Website Award as recognized by student body at La Salle High School for the teacher who most proficiently uses online learning technology—May 2008
Recognized by Anthony Munoz Foundation Straight A's Student as Most Influential Teacher—May 2006.
La Salle High School Cornhole Tourney Champion -April 2006
Who's Who Among America's Teachers—2003, 2004, 2005.
Currently Resides: Cincinnati, OH
Favorite La Salle Employees: Mick Owens, Fr. Chuck Mentrup, Coach Jim Louder and Bill Cady
Favorite La Salle Memory: Too many transformative memories to name here. At the top of the list is all the great people I have met and learned from during the years as a student, Lasallian educator and alumni. I met my wife here at La Salle, I forged friendships with so many great people, and have been blessed to find meaning and purpose in my life. Witnessing first hand the benefits of our Lasallian tradition in my life and the lives of the young men entrusted to our care is at the top of my favorite memories. From being a part of our first GCL championship in football in school history (1995-96), to cheering on our brothers to our first basketball state championship (1995-96), to collecting canned goods for those who couldn't feed themselves, to being a small part of helping young men to encounter Christ both in their souls' and in their relationship, to seeing my son find a home that both supported and challenged him to become a strong, healthy, informed, prepared, dependable and faith-filled young man. There are so many awesome memories for me and my time here at La Salle High School.
Favorite La Salle Alumni Experience: Again, this is tough to limit to only one. Naturally, my mind goes to the "big events" that captured our attention...our state championship winning seasons in football and basketball come to mind. For me if you look closer, it is not only "what" was accomplished, but the how this was done, not only through tremendous work ethic, on point execution of the game plan, but the bond forged through a transformative Lasallian education, both the team and the entire Lasallian community. From watching a star running back authentically give credit to "his brothers," to the coaching staff who came together in the absence of their head coach to rally and pick-up for their sick friend and fellow coach, to the guys in the stands who can barely contain themselves in their passion for their friends and Lasallian brothers on the field and stage of competition. In the end, I really enjoy hearing from our young men who return back home to LS to share their life experiences and catch-up on life's happenings. Watching our fellow Lasallian brothers come together to live our mission in the classroom, on the stage and in their lives' post LS graduation. I feel truly blessed to have the opportunity to serve and learn a such an awesome community.